Minnesota's Lily Hybridizers
Tim Zimmerman
Hanover, Minnesota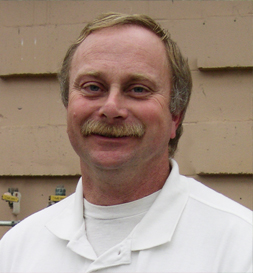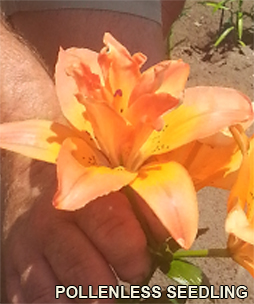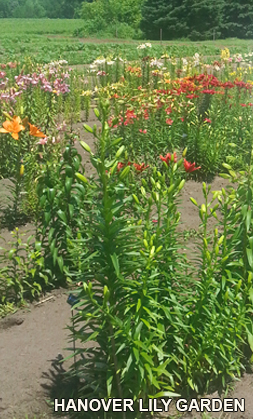 Interest in lilies in the Zimmerman family may have started with Tom Zimmerman, but it is his brother Tim that has taken it to new heights. Fostered by his brother, Tim learned to cross lilies and which characteristics to look for when making a cross. Tim began crossing Asiatics and was soon poring through catalogs to add even more lilies to his collection. He acquired a few Orientals, Aurelians and trumpets to extend his bloom season.
Tim also became friends with Julius Wadekamper and with his mentoring, Tim's knowledge broadened. In an article he authored for the North Star Lily News in 1988, Tim shared that at that time, he was impressed with multiple-colored Asiatics that could combine yellows, oranges, reds, creams and pastels into very unique patterns. For solid-colored Asiatics, pink was his favorite hue. For orientation, Tim favors up and outfacing lilies and miniature and tetraploid lilies drew his attention. Over the years, Tim also decided to try his hand at pollen-less lilies. He wanted to expand upon and improve the work of Ervin Doerr. He also said that about 18 years ago he brought lilies to church to share with friends after services. He remembers that a lady was so happy to receive the stems that she grabbed a huge bouquet in her arms and he saw yellow, gold, orange and red pollen smudge all over her white blouse and he couldn't imagine the stains his lilies caused. It was then that he tried in earnest to develop pollen-free stems. A visit to the show bench will confirm that he's had some very good results with this endeavor.
It may seem like Tim spends all of his lily-time in the garden, but that's not true. Tim has been very dedicated to both the North Star Lily Society and the North American Lily Society. He has served twice as president of the NSLS along with giving countless hours of his time to a number of committees, bulb sales, speaking engagements and mentoring novice lily-growers. Tim's enthusiasm for lilies is such a wonderful asset to the NSLS.
These days, Tim says he has 800+ seedlings in his garden. Among his registrations are L. 'Ring of Fire' whose name was suggested by NSLS friend Paul Olson. It was a great suggestion not only in the way it describes the lily, but Tim likes Johnny Cash! Another registration is L. 'Desert Storm' which was named to honor his brother when he was in the Army Reserves during Desert Storm. L. 'Morgan' and L. 'Riley' are named for his daughters. And, in honor of Julius Wadekamper, Tim registered a beautiful brush marked, pollenless lily and named it L. 'Dream Julius.'
Tim's daughters, Riley and Brady, are expanding on the Zimmerman love of lilies. They have been awarded high praise for their entries in the artistic section of NSLS shows. Having a garden full of colorful lilies from which to select specimens for their designs, they're showing their dad that there's more than one use for a beautiful lily!

Photos are the property of the North Star Lily Society